Feature
A Supreme Success: Justice Kelli Evans Featured in UC Davis Magazine
Image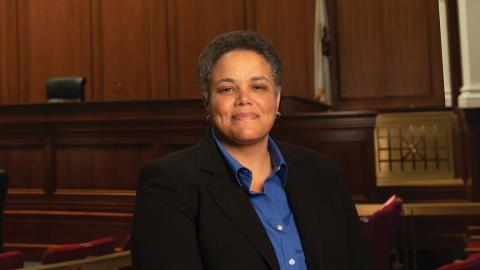 Photo credit: Gregory Urquiaga / UC Davis
California Supreme Court Associate Justice Kelli Evans, J.D. '94, sits inside her chambers in San Francisco with a sweeping view of Civic Center Plaza and City Hall. We joke that the gold-toned furniture and her blue ensemble make a perfect UC Davis color combo.
The chairs belonged to the office's previous occupant and will soon be exchanged for something of her choosing, as Evans is the newest member of the court, having been sworn in on Jan. 3.
Her diversity of experience and success in the legal field has led to this point. She previously worked in nonprofit, private and public sectors and served as Gov. Gavin Newsom's lead attorney on a wide range of issues. She is also the first open lesbian to serve on the court.
"One of the things I love about being here — in many ways, similar to what I've loved about my career in the law — is there's so much diversity," Evans said in an interview with UC Davis Magazine in July. "There are so many opportunities for learning about new issues and new areas of the law."
Read the full article.